As you may have seen in our recent announcement, Unchained has entered into a strategic relationship with Kingdom Trust to be a key agent for our multi-institution vaults and loans. As part of this relationship, we are transitioning our new and existing loans to Kingdom Trust, who will be acting as our Key Agent going forward.
What this means for you
In the coming weeks, we will begin a process to transition existing multi-institution loans to Kingdom Trust as key agent, including yours. This process will formally begin on October 31st and you will receive additional email reminders in advance as well as on the specific day when your loan is scheduled to be transitioned. At all times, your bitcoin collateral will be secure in a 2-of-3 multi-institution multisig arrangement.
Once scheduled, a transaction will be authored to sweep your loan collateral into a new loan address which will be secured by your key, Unchained's key, and now Kingdom Trust's key instead of Citadel SPV ("Citadel"). You will not need to take any actions while the sweep is in progress, and you will receive an automated email when the transaction is authored. Once the transaction is signed by Unchained and Citadel SPV, it will be broadcasted by Unchained. Upon transaction confirmation on the bitcoin network, the sweep will be complete and the new quorum of keys will be in place.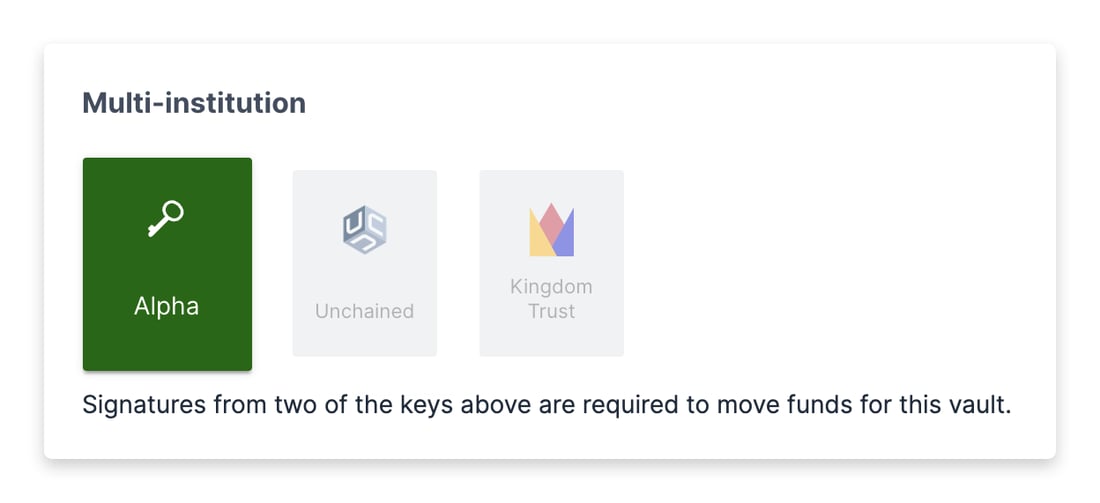 When you log in to your account, you will be able to see your bitcoin on-chain and confirm that your key remains 1-of-3 keys in the quorum (see instructions here to confirm). Consistent with your contract, your bitcoin is not rehypothecated and will remain fully segregated—from both a legal and cryptographic perspective—at all times. From an account perspective, you will notice that Kingdom Trust will have replaced Citadel as key agent and your collateral balance will reflect your current balance less any on-chain fees associated with the transaction.
What you need to do
As a result of the new quorum of keys, you'll need to download and back up a new loan wallet config file.
For Coldcard users, you'll need to complete the additional step of importing the new config file into your device in order to sign transactions going forward. Until you import the new config file, you'll receive an error message when trying to sign transactions for your loan. After importing the new config file, it's ok to delete the old config file off your Coldcard, but this step is not required.
For the inconvenience of this transition, we will send you $5 to your active bank account.
What to do if you have questions or need help
Please reach out to us at clientservices@unchained.com or call us at (844) 486-2424 if you have any questions or need assistance locating your new loan wallet config file.
FAQs
Was there an issue with Citadel? Why is this happening?
Citadel has been a great partner to Unchained for the past four years. However, providing the key agent service and bitcoin more generally have become less of a core focus for Citadel during this period, which made it logical to transition out of its role as a Key Agent for Unchained. Unchained also had a desire to expand our multi-institution loans and vaults business and in order to do so, having a partner with a strategic focus around bitcoin, independent from Unchained, was a very high priority to further improving the security benefits of multi-institution collaborative custody and expanding our reach, which made Kingdom Trust a great fit.
Who is Kingdom Trust and why did Unchained choose Kingdom Trust to be a key agent?
Kingdom Trust is an independent qualified custodian regulated by the South Dakota Division of Banking. Kingdom Trust specializes in unique and innovative custody solutions for individual investors, investment sponsors, family offices, advisory firms, broker-dealers and various other investment platforms. Kingdom Trust currently serves over 100,000 clients and has over $12 billion in assets under custody, a subset of which includes bitcoin and other digital assets.
Unchained decided to partner with Kingdom Trust to be a Key Agent in collaborative custody principally because of its strategic investments and alignment in bitcoin, its history and track record facilitating bitcoin custody, and its regulatory structure as a trust company and qualified custodian.
Are my funds safe during this transition?
Yes, your funds are secure. The only aspect that is changing as to how your collateral is secured is the institution holding the third key in the 2-of-3 multisig quorum as a key agent. Bitcoin will transfer directly from the current multisig quorum with CitadelSPV as key agent to a new quorum with Kingdom Trust as key agent. Once complete, your bitcoin will still be secured in cold-storage collaborative custody and still fully segregated in its own address. You will hold one key (the same previously provided), Unchained will hold a second key, and Kingdom Trust will hold the third key in a 2-of-3 multisig quorum. The title to the bitcoin will not change, with the equitable title always remaining in your name.
What about miner/network fees? Who is paying for that?
Due to the fundamental nature of the bitcoin network, mining/network fees will be deducted from your bitcoin as it moves to a new address as part of this transition. We expect these fees to be minimal and recognize that this is one of several inconveniences you may experience related to this transition. As a recognition of these inconveniences, we will be sending a $5 payment to your active bank account as our way of saying, "thanks for bearing with us!"
How can I get in touch with someone if I have questions?
Please email clientservices@unchained.com if you have any questions. Please include "Key Agent Transition" in the subject of your email as our Client Services team will be prioritizing prompt responses to any questions related to this transition. You may also call us at (844) 486-2424, option 2 to speak to a member of the Lending team.