Sign in to your Unchained account and follow the steps in the trading desk activation checklist
If you live in an approved state, after signing in to your Unchained account, you will see a new "Trading is here" checklist. To enable trading for your account, simply follow the checklist:
Create vault: We only deposit bitcoin to Unchained vaults. If you need help building a vault, contact our concierge team, and they will walk you through the entire process.
Submit tier 3 profile: Submit basic financial information to be approved for tier 3 and get access to trading. Individual and business accounts have different requirements, and approval can take up to one business day.
Link bank account: A bank account must be linked to your Unchained profile prior to trading. To facilitate trades securely, all wires must originate from this bank account.
Sign acknowledgment:

Sign a DocuSign form. Please read it carefully and reference our

Terms of Service

for our process and procedures. If onboarding a business account, you can authorize multiple users to trade on your organization's behalf.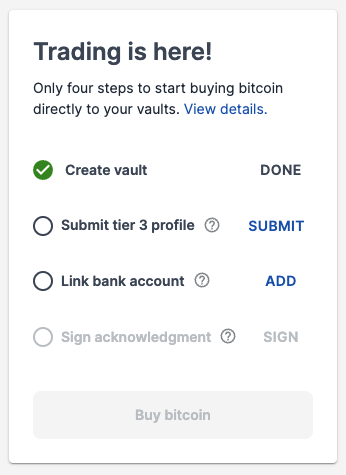 Once you submit this information and are approved, you can start trading!